Practice Areas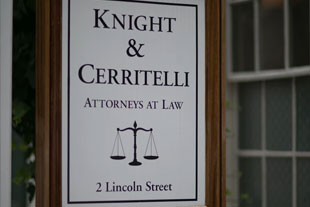 The Law Office of Gregory Cerritelli, is a firm focused on providing the best client service experience possible. The firm handles criminal defense and personal injury cases as well as pardon applications, police administrative matters and gun ownership rights issues. The attorneys' services span across the New Haven metro area and South Central Connecticut. Each lawyer has decades of legal experience protecting the rights of clients and helping them obtain the best possible outcomes.
Criminal Defense
Together, the firm's attorneys have more than 35 years of combined experience in criminal defense. They are skilled litigators and are dedicated to providing beneficial legal services to those charged with crimes. Their criminal defense services include but are not limited to:
Sexual assault
Violent crimes and felonies (murder, robbery, burglary, home invasion)
Drug crimes (sale, possession and distribution crimes in state and federal courts, including but limited to cocaine, crack cocaine, OxyContin, heroin and marijuana)
Internet and computer crimes (child pornography, cyberstalking, harassment, enticing minors)
Hate crimes
Domestic violence
Parole or probation violations
Federal drug offenses
State guns and weapons charges
Child pornography
Kidnapping
Financial crimes (embezzlement, larceny, theft)
Personal Injury
Successful personal injury representation combines compassion for injured clients and effective case resolution skills. Whether through settlement or litigation, The Law Office of Gregory Cerritelli seeks to instill trust and confidence in clients so that they know the lawyers here will do their absolute best.
The firm handles injury cases involving auto accidents, truck accidents, motorcycle crashes, bicycle and pedestrian accidents, premises liability, slip-and-falls, workers' compensation, dog bites and wrongful death.
Contact the Connecticut Injury and Accident Lawyers at The Law Office of Gregory Cerritelli
You may schedule an initial consultation to discuss your legal issues at absolutely no charge. To arrange an appointment, call 203-624-6115 or contact us online here. Scheduling is flexible according to clients' needs. Visa and MasterCard are accepted.