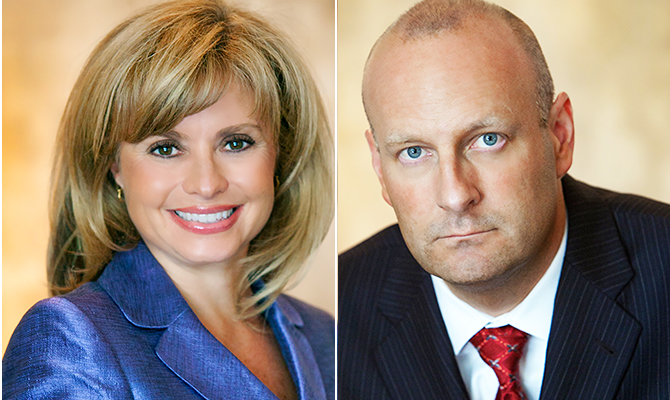 Criminal defense attorney Tara Knight likes to keep it real. After all, she thinks of herself as someone working to "get regular people out of trouble."
But the attorney from Knight, Conway and Cerritelli in New Haven is anything but your average criminal defense counsel, according to Mickey Sherman and Hugh Keefe, who are often caught in, or step into the spotlight while defending high profile cases like Beth Ann Carpenter, Michael Skakel, or Peter Reily.
"Some say she [Knight] is up and coming," Keefe said. "But she has arrived. She has a golden future in this profession."
Maybe it's Knight's friendly smile or petite figure that makes her so approachable, but those who have worked with her during her 10-year career as a criminal defense attorney don't think of her as just another pretty face in the legal field.
"Tara's problem/asset is that she doesn't look like a criminal lawyer," Sherman said of the 35-year old attorney. "She has to fight every day to be taken seriously. What people have to understand is that Knight is an excellent criminal lawyer, ad detailed persona and a law person – unlike classic hip-shooters like myself."
For all the praise from her male counterparts in criminal defense law, Knight, a graduate of Suffolk Law School in Boston confirmed that getting others to respect her work has been a challenge.
After working for three years with the firm of Nathanson and Cipriano in Hamden, Knight said she started her own firm in an office overlooking railroad tracks and equipped with only a fax machine and a telephone, in an effort to be more independent and to focus on solely criminal work.
She began talking to bondmen, and going to courts regularly, to get an idea of who might need representation. Knight also requested felony cases as a special public defender, and joined numerous criminal defense organizations
Keefe, who has consulted with Knight on past cases, including the Beth Ann Carpenter case, recently asked Knight to join him as co-counsel again – this time on behalf of Peter Reilly.
Members of the state police continue to examine DNA evidence in the murder of Reilly's mother, Barbara Gibbons, who was killed in New Canaan in 1973.
Public Safety Commissioner Arthur Spada recently sat down with Knight, Keefe and Reilly, who was first convicted then exonerated in Gibbon's death.
"Arthur Spada couldn't have been more accommodating," Knight said. "He went above and beyond his call of duty. I know Peter is very happy with all of the developments."
Although no killer has ever been found since Reilly was cleared, the now 45-year old musician claims he knows how his mother's killer was. And he has had a tense relationship with state police over the past two years as he has tried to have hairs found in his mother's hand tested by new technology. The department has agreed to have further testing done.
Keefe said he asked Knight to serve as co-counsel for Reilly in part because of her incredible media-savvy. Knight is almost as much a regular on Court TV as "Mickey" Sherman is.
Rikki Klieman, an anchor with Court TV and a criminal defense attorney practicing in Boston, praised Knight's work.
"Tara Knight is one of the most committed people to fight for (her clients)," Klieman said. "It is a deep-seated commitment that is not a joke."
Meanwhile, Knight is scheduled to make another appearance on national television. She, along with Keefe and Reilly, was recently interviewed by A&E about the unsolved Gibbons murder for an upcoming spot on the cable channel.