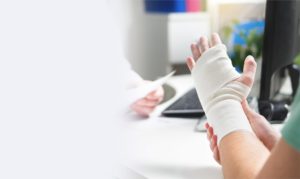 Life is extremely unpredictable and unfortunately, accidents happen every single day. While many of these accidents are harmless and only create minor inconveniences, others are extremely costly in time and resources, and sometimes result in serious injury or death. 
When you or someone you love has been seriously injured, life as you know it can instantly turn upside down. Amid all the confusion and stress, one of the most critical elements you will need moving forward is a strong advocate on your side. One who understands the future you face and knows how to navigate it with expertise and compassion – a personal injury lawyer.
Here are several reasons why you should hire an experienced personal injury lawyer when you or a loved one has been injured:
Personal injury cases are complex, and every case is unique. In cases where the injuries are catastrophic and life-altering, you need a lawyer who truly understands the long-term implications of your injuries.
Personal injury lawyers understand what it takes to build a strong case during the discovery phase in order to maximize compensation for your injuries. 
Personal injury lawyers know what claims and evidence to collect for your case including accident reports, medical records, witness interviews, photographs, and more.
Personal injury lawyers understand all of the unique factors that go into valuing a personal injury claim. Things such as type of injury, the at-fault party's actions, medical costs of treatments, future medical needs, wages lost, loss of companionship, and more are taken into consideration.
Personal injury lawyers understand that insurance companies do not want to award compensation without a struggle. There are very few who have a sufficient understanding of the state's personal injury statutes when it comes to negotiating a fruitful settlement. From beginning to end, your attorney will be by your side, representing you through every step of the process. 
Not only do personal injury attorneys bring a thorough understanding of personal injury litigation, but they also have first-hand experience in applying the laws to your claim to try to prove negligence. 
Speak to a Personal Injury Attorney Today
Suffering a personal injury can be a truly life-altering event and hiring an experienced and knowledgeable attorney to serve as your advocate is in your best interest. No matter the nature of your personal injury, our team can help. For over 70 years, accident victims and their families have relied on our team's approach to secure their care and compensation. If you or a loved one have suffered from a personal injury, contact the personal injury lawyers at Knight & Cerritelli today.