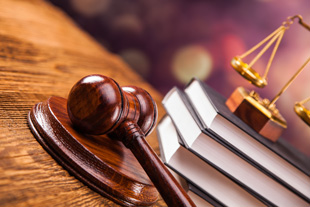 MILFORD – An Ansonia man broke into tears Tuesday when a Superior Court judge acquitted him of charges that he conspired with his wife to embezzle nearly $500,000 from an elderly man.
Wilbert Howard, 56, wept as Judge Brian Fischer ruled there was insufficient evidence for a jury to find him guilty of felony charges that he conspired with this wife, Linda, a home health care worker, to swindle the life savings of Ansonia resident David Seymour.
The prosecution had accused Howard of cashing several checks, worth at least $25,000 each, that his wife had allegedly endorsed the using of a rubber stamp of the victim's signature. Howard's attorney, Tara Knight of New Haven, presented a motion of acquittal shortly after the state rested its case against her client Tuesday.
"The state was unable to meet its burden of proof," Knight said. "There was no evidence presented that my client had any criminal attempt."
Knight described her client as a simple and quiet man who was not involved in the household finances. She said Linda Howard told her husband that the money was advance payment for her services as a home health care worker for Seymour, who was in his early 80s and suffering from Parkinson's disease when he was allegedly bilked of his savings.
Linda Howard continues to face several charges in connection with the allegations, including first degree larceny. The six-member jury is expected to begin deliberations on the case today.
The state alleges that Linda Howard stole nearly $500,000 from Seymour, who died destitute in 2004, at the hospital after all his accounts had been cleaned out, court documents state.
Seymour's niece, Claudia Sinal, testified earlier in the trial that restraining straps were found in her uncle's home, suggesting that Linda Howard had mistreated him. She also told the jury her uncle's house was in shambles.
Deputy Assistant State's Attorney Annemarie Braun, who is prosecuting the case, declined to comment while the case is pending.